Fuertes

About Fuertes
Read more
Fuertes is an homebrew brand based in Charlotte, the United States. The brand has been founded by the well-known hair stylist Franklin Fuertes. Quickly after opening his own hair salon he realized that a good haircut is obviously the basis, but that styling products add a lot to it. Inquisitive as he is, he did not just want to take an external brand into his salon, so Franklin Fuertes created his own brand.
All products of Fuertes are made by himself with the best ingredients. He listened to the problems of his customers and developed the Fuertes brand as a result.
Fuertes and Moquer
Late 2018 Moquer was one of the first companies that made the products of Franklin Fuertes available in Europe. It is obviously a huge advantage when the owner of a brand is a hair stylist himself, so he knows perfectly how to develop great quality products.
The products of Fuertes received a lot of praise and such a modern salon brand should be available at Moquer. That is why Moquer is very pleased with the collaboration that is going on for a few years now.
Fuertes Hair Studio Products
Franklin Fuertes has a great line of products. All products are specifically developed to solve problems. Only the most natural ingredients are good enough for his products. All products are handmade in his own hair studio. Of course his products are also paraben and sulfate free.
The most popular products of Fuertes are the styling clay, hair balm and the sea salt spray. These two products can also be used together to get a great high hold, low shine look with texture.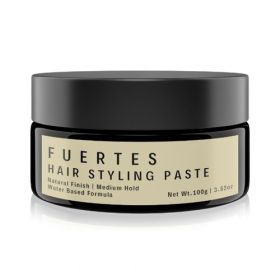 Fuertes Hair Styling Paste 100 gr.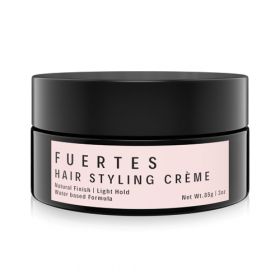 Fuertes Hair Styling Creme 100 gr.