Samson's Haircare

About Samson's Haircare
Read more
Samson's Haircare has been founded in 2016 by Jake and Adam in Michigan, USA. These two proud men do not outsource the production, but they do everything themselves. Jake is formulating the Samson's Haircare products and Adam is responsible for the marketing and business relations.
Samson's Haircare is a small and down-to-earth company. It is just two men that are obsessed with great hair and are trying to create the best grooming products for men.
Samson's Haircare and Moquer
In 2020 Adam of Samson's Haircare and Chris of Moquer exchanged some e-mails, but it was not yet the right time for a partnership. Mid-2021 it was the best time to start collaborating and that was the moment to bring the Samson's Haircare products to Europe.
There are only a few resellers of Samson's Haircare products in Europe and of course Moquer is one of them. Many smaller hair styling and grooming brands from the US found there way to the Moquer shop and Samson's Haircare is another great fit.
Samson's Haircare Products
Samson's Haircare has a very well-balanced line of products. They have 4 hair styling products, a beard oil and a beard balm. The products are formulated in-house and have healthy ingredients.
The formulas do not contain any parabens or sulfates, but instead many natural waxes, clays and oils. These will keep your hair and beard hydrated and styled. Samson's Haircare has great and natural products for every man.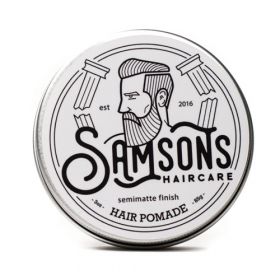 Samson's Hair Pomade 85 gr.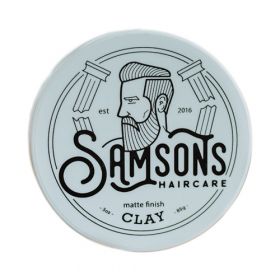 Samson's Clay Pomade 85 gr.