Dapper Dan

About Dapper Dan
Read more
Dapper Dan is a British barber brand founded in Sheffield in 2011. They were not happy with the current availability of hair products for men, so they started collaborating with hair dressers.
In 2012 Dapper Dan launched their first product, the Dapper Dan Matt Paste. This brand has a small product line, but enough to have something for many different hairstyles and hair types.
Dapper Dan and Moquer
Moquer started selling Dapper Dan products in 2016. This British barber brand was a great addition to the current brands, because Moquer wanted to offer more barber brands. Since then Dapper Dan is an important and affordable brand in the shop that many men appreciate.
Dapper Dan Products
Dapper Dan launched a few hair styling products and with those you can achieve all the different hairstyles according to them. The hair styling products are classic British products in good looking metal tins.
Dapper Dan products are very affordable, so this brand is popular with many men. Their most popular product is the Dapper Dan Matt Paste and their sea salt spray is also gaining popularity lately. Dapper Dan Pomade 100 ml.
Dapper Dan Matt Clay 100 ml. Dapper Dan Matt Paste 100 ml.
Dapper Dan Fixing Spray 125 ml.
Ordered before 11pm = shipped today
5% discount from 3 products
Your questions quickly answered
Free gift worth €7,95 when order value is €75+
Dapper Dan Beard Oil 15 ml. Dapper Dan Matte Creme 90 ml.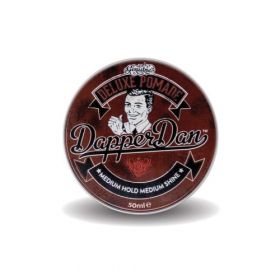 Dapper Dan Pomade Travel 50 ml.